Scarlets Hotel & Jocks Bar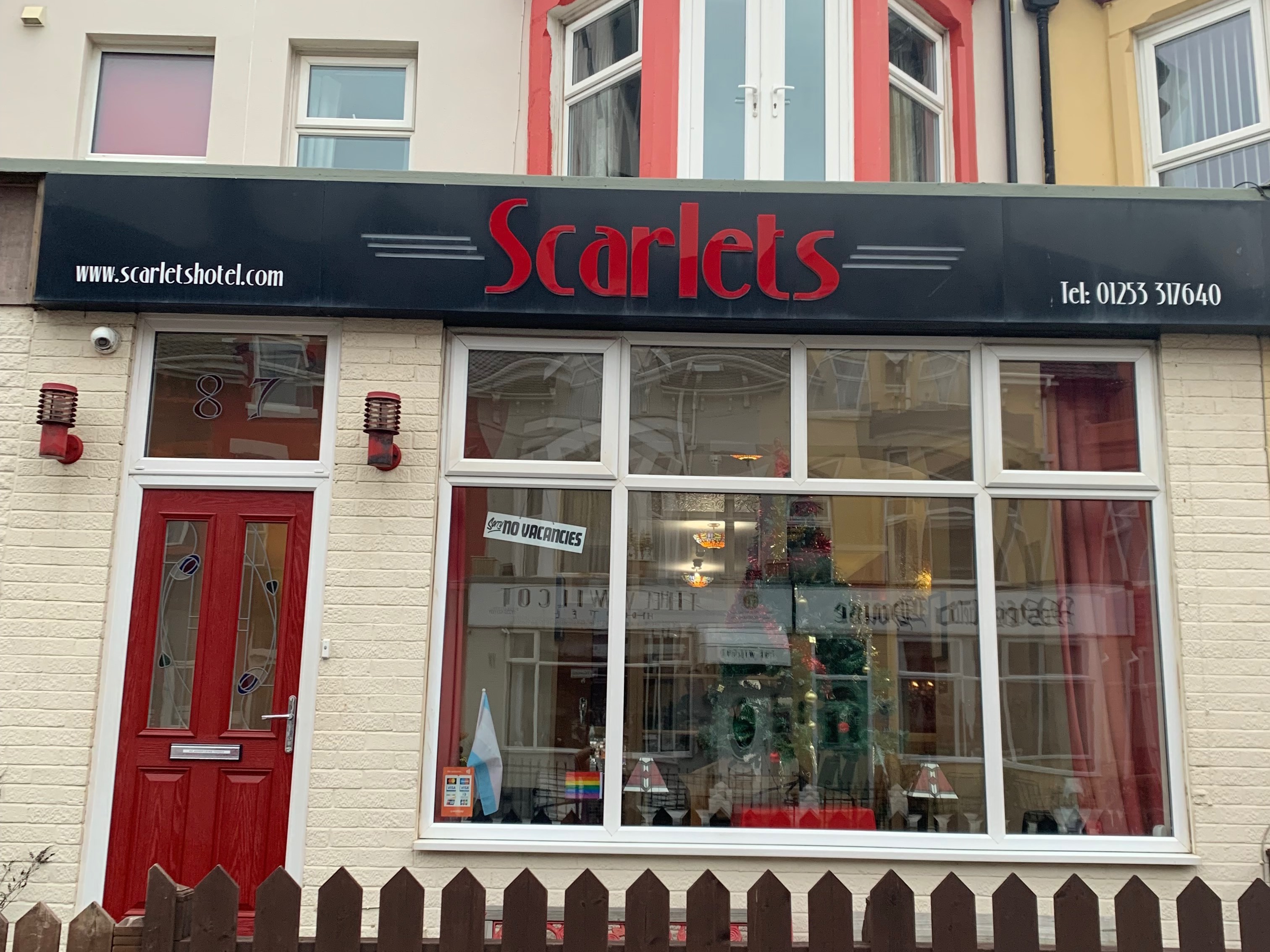 Michael and Mark welcome you to Scarlets Hotel & Jocks Bar. We offer our guests quality, comfortable accommodation with relaxed surroundings at affordable prices. We also have two car parking spaces which can be available on a first come, first served basis at £5 per day.
We provide a unique environment both in the hotel and in Jocks Bar where you can meet with like-minded people, relax completely, enjoy great beers, wines and spirits in our bar and follow-up a great night with an informal tasty breakfast in our bar or delivered to your room!
Scarlets Hotel is perfectly situated for the Blackpool gay scene as we are just a short walk from the bars, Blackpool North train station and town centre. - The majority of our guests are likely to be LGBT but as long as you are aware and have no issue with gay people you are welcome to stay with us. You can go and enjoy all the delights of Blackpool's night-life, or enjoy our friendly bar with its men-only dark zone. We are planning various theme nights.. sports kit, leather, underwear, naturist, pups and handlers etc so keep an eye on our Jocks Bar facebook page.
For those who are nervous or allergic to pets, please be advised that we have a small Jack Russell dog who occasionally visits at the hotel, however she is very friendly with a sweet temperament.
TERMS & CONDITIONS
A TWO night minimum stay is applicable at weekends from Easter to early November (during peak seasons), all bank holidays, PRIDE and New Years Eve.
The tariff displayed above is applicable to all customers making their booking via the telephone. Customers making their booking online should be aware that they are using a booking agent (not us) and may be charged a higher tariff and different booking terms may apply.
Any theft or damage to hotel furniture or textiles (particularly burns on carpets) will be charged to the principle card holder, named guest or group organiser responsible for the booking, this will include replacement of the item in full including any labour/delivery charges.
Any guest found to be rude, discriminating, discourteous or found to be jeopardising the safety or wellbeing of other guests or hotel staff through noisy anti-social behaviour will be asked to leave the premises immediately, barred from any future visit and will not be offered any refund of monies paid.
Check in anytime from 2pm, please advise if you are arriving later than 6pm.
Bookings cannot be accepted unless we hold valid credit/debit card details and an email address, this applies even if you have made your reservation online, we will still ask to see your card upon check in.
The management reserve the right to refuse or cancel any booking(s) at their discretion.
CANCELLATION / REFUND POLICY
All deposits are non refundable.
Cancellations which are notified to us by phone 7 days or more prior to the booking date are refundable in full but may be subject to a £10 cancellation fee. We will notify you by email to confirm that your booking has been cancelled and whether a refund is due.
Cancellations made less than 7 days of your expected arrival date are chargeable at the full room rate although every effort will be made to minimise the cost to you by us attempting to re-let the room and refunding the balance to your card. You will not be charged at all if we are able to successfully re-let the room for the same dates and rate to somebody else.
Group bookings are the responsibility of the individual who agreed to make the booking on the groups behalf and you are responsible for their share should anyone in that group decide to cancel with insufficient notice or fail to turn up. We reserve the right to debit the cost of the entire groups stay from the organiser immediately upon cancellation of any group booking if less than 7 days notice is given. The balance of any rooms that we are able to sell will be refunded to the group organiser the following week.
Your booking indicates your acceptance of these terms.